Ad Blocker Detected
Our website is made possible by displaying online advertisements to our visitors. Please consider supporting us by disabling your ad blocker.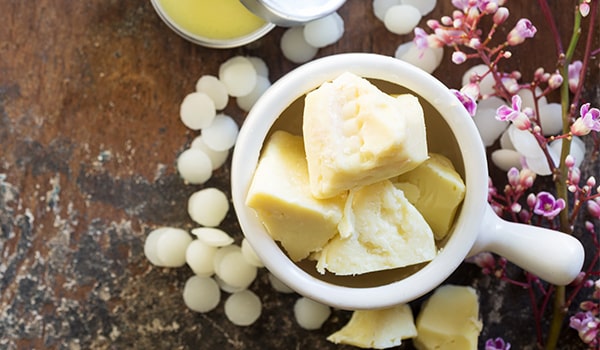 Do you know that the beeswax is an extremely, versatile ingredient used for several beauty products? There are endless reasons to support the same. For one, they are extremely nourishing and act as a protective barrier to seal in moisture into the skin. While its uses are many, there are some easy beeswax products you can make at home. If you haven't tried it already, then read about our 10 recipes below.
Here are all the 10 beeswax recipes you can create at home.
1. Lip Balm:
Description:
This DIY lip balm is quite simple to create. It is all-natural with zero chemical ingredients. And all the more, it smells amazing. This is a must-try!
Ingredients:
Directions:
Mix the shea butter, coconut oil, and essential oil into a bowl.
Stir well until it melts and becomes clear. Make sure that the mixture does not boil.
Make use of a dry cloth to hold the bowl and transfer the melted mixture into a jar.
Use the jar to fill the lip balm tubes or containers.
Set aside to set. Once it is solid, you're lip balm is ready for use.
Source: fellowfellow.com
2. Solid Perfume:
Description:
A scent that can be customized sounds pretty cool, doesn't it? You can get to decide your own unique scent. Plus, this one is really simple to make. You will be stunned by how good it turns out.
Ingredients:
Directions:
Add one tsp beeswax and melt it in a double boiler.
Once melted, add one tsp of the carrier oil and 40-50 drops of the essential oil.
Transfer into a container making sure not to harden the mixture.
Allow it to sit for 10-15 minutes.
Once fully solidified, your perfume will be set.
Source: blog.freepeople.com
3. Sunscreen:
Description:
As you must be aware, it is essential to use sunscreen at all costs. You may try making an all-natural SPF 30 option that can give you optimal benefits. Here is a step-by-step instruction on how to create one.
Ingredients:
Directions:
Mix one ounce of coconut oil, shea butter, and beeswax granules in a heat resistant bowl.
Melt all the ingredients on low flame and set off to cool.
Add zinc oxide powder and mix all the ingredients well using a blender.
Transfer into mason jars or containers. Rub well onto skin until the lotion soaks into skin.
Source: flickr.com/photos/[email protected]/
4. Hair Pomade:
Description:
Wish to whip up homemade pomade? Well we have just the right recipe for you. If you wish to give this a try, then read ahead.
Ingredients:
Directions:
Pour water into a saucepan and allow it to simmer for some time. Close the lid.
Melt one ounce of beeswax in a bowl add ½ ounce of shea butter. Once this melts, remove from heat, and add the almond and essential oil.
Transfer the hot mixture into a clean container.
Source: goldminejournal.com
5. Homemade Deodorant:
Description:
Most regular deodorant contains harsh chemicals that can be harmful for skin in the long run. You may try switching your options to a natural one for best use.
Ingredients:
Directions:
Melt equal parts coconut oil, shea butter, and beeswax into a heat resistant bowl.
Once the base has melted, add the rest of the ingredients like baking soda and arrow root powder.
Take out the bowl and allow it to cool off for one minute.
Pout the deodorant into an empty jar.
Put it in the fridge and your homemade deodorant is ready for use.
Source: thecoconutmama.com
6. Tummy Massage Cream:
Description:
Technically this DIY massage cream is perfect for moms-to-be as it can get rid of stretch marks. But since this balmy cream does the trick of skin nourishment, everyone can use it irrespective.
Ingredients:
Directions:
Add ½ cup cocoa butter, two tsp beeswax, and ¼ cup coconut in a sauce pan.
Mix well over medium-low heat until all the ingredients are melted.
Remove from heat and add sweet almond oil, lavender essential oil, and Vitamin E oil. Mix well until well blended.
Pour the mixture into a container and allow it to sit for an hour.
Once the balm turns from liquid to creamy texture, the cream can be ready for use.
Source: thankyourbody.com
7. Sleep Salve:
Description:
This sleep salve is soothing and can allow you to have a good night's sleep. You can slather the solution on your feet for best effect. It is rather easy to make. Here is how you can do it.
Ingredients:
Cinnamon bark essential oil
Directions:
Add 20 drops of cinnamon bark essential oil, 40 drops of ginger essential oil, peppermint essential oil, lemon essential oil, and grapefruit essential oil each to a small bowl.
Source: popsugar.com
8. Shaving Cream:
Description:
This DIY shaving cream can be used both as a shaving oil and shaving soap. Apply a thin layer of the cream for best use. It does not lather and dry up the skin.
Ingredients:
Olive, jojoba, or sweet almond oil
Directions:
Melt 1/3 coconut oil, shea butter in a small saucepan over low heat.
Stir well until it melts well.
Add two tsp olive oil until well blended.
Transfer the mixture to a medium-sized bowl.
Whip until fluffy and add the castile soap.
Place the shaving cream in a tight container and store in a cool place.
Source: mommypotamus.com
9. Lotion Bars:
Description:
Show some TLC for your tanned hands and feet by giving these lotions bars a try. These homemade bars are infused with lavender to give your skin the desired softness.
Ingredients:
Shea butter or cocoa butter
Directions:
In a small saucepan, melt two ounces of coconut oil and shea butter until it forms a liquid consistency. Remove from heat instantly.
Add 10-20 drops of the lavender essential oil and pour into silicone molds.
Unmold the bars and store in a cool place.
Source: gourmandeinthekitchen.com
10. Cellulite Cream:
Description:
Yes, you read it right. You can make your very own cellulite cream now. Slathering this thick cream can prevent your dimples and provide you a natural glow.
Ingredients:
Directions:
Mix 10 drops of grapefruit essential oil, two tsp beeswax, and one cup coconut oil.
Store in a glass container.
Rub on affected area for 5-10 minutes daily.
Source: everydayshortcuts.com
These are some of the best methods to use your beeswax products. We are sure these can take care of your skin care needs. Share us your feedback in the comment section below.