Ad Blocker Detected
Our website is made possible by displaying online advertisements to our visitors. Please consider supporting us by disabling your ad blocker.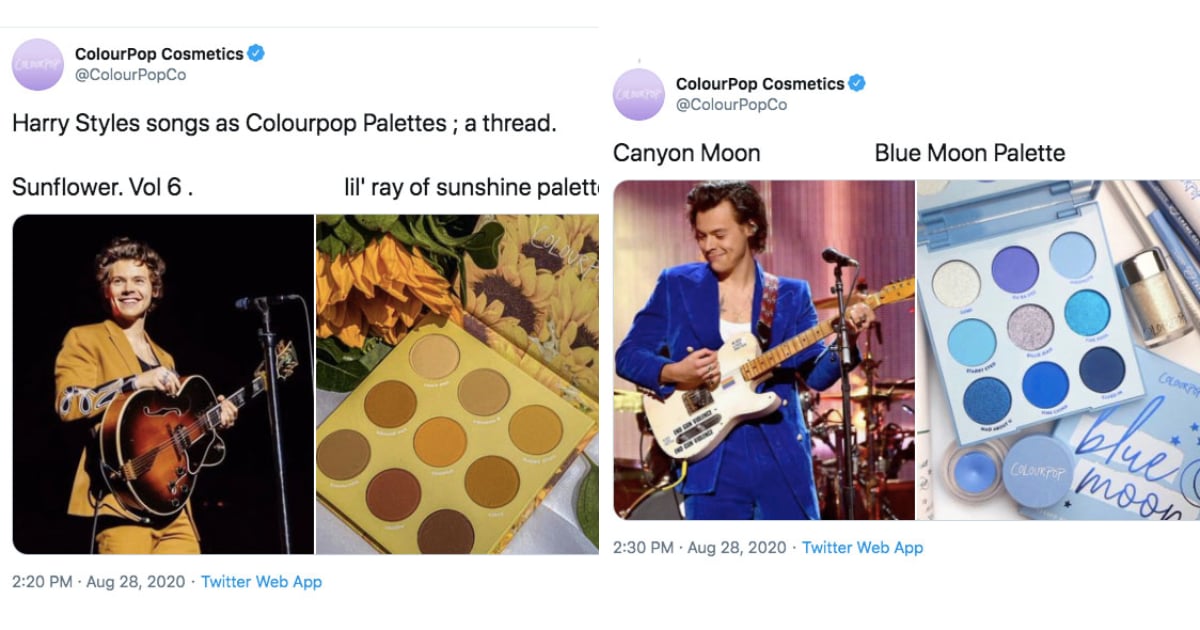 Our day just got significantly better: ColourPop decided to match its makeup palettes with Harry Styles songs, and the results deserve a standing ovation. The Twitter thread titled "Harry Styles songs as Colourpop Palettes" paired the singer with an eyeshadow palette that matches the vibe and color scheme of various songs of his, and both ColourPop and Styles fans alike are loving it.
The handful of songs selected included "Sunflower. Vol 6.," "Golden," and of course, "Watermelon Sugar." ColourPop then used a side-by-side of a screenshot from Styles's music video or a photo of him performing on stage and a picture of a makeup palette that go together perfectly. For the song "Golden," it matched it with the glitzy Good as Gold Palette; for "Canyon Moon," it paired it with the Blue Moon Palette.
The song and makeup duos go so well together, Styles looks as if he could be an ambassador for the brand appearing in a new campaign. (Just putting that out there, ColourPop . . . ) See the Styles and ColourPop matches for yourself ahead.