Ad Blocker Detected
Our website is made possible by displaying online advertisements to our visitors. Please consider supporting us by disabling your ad blocker.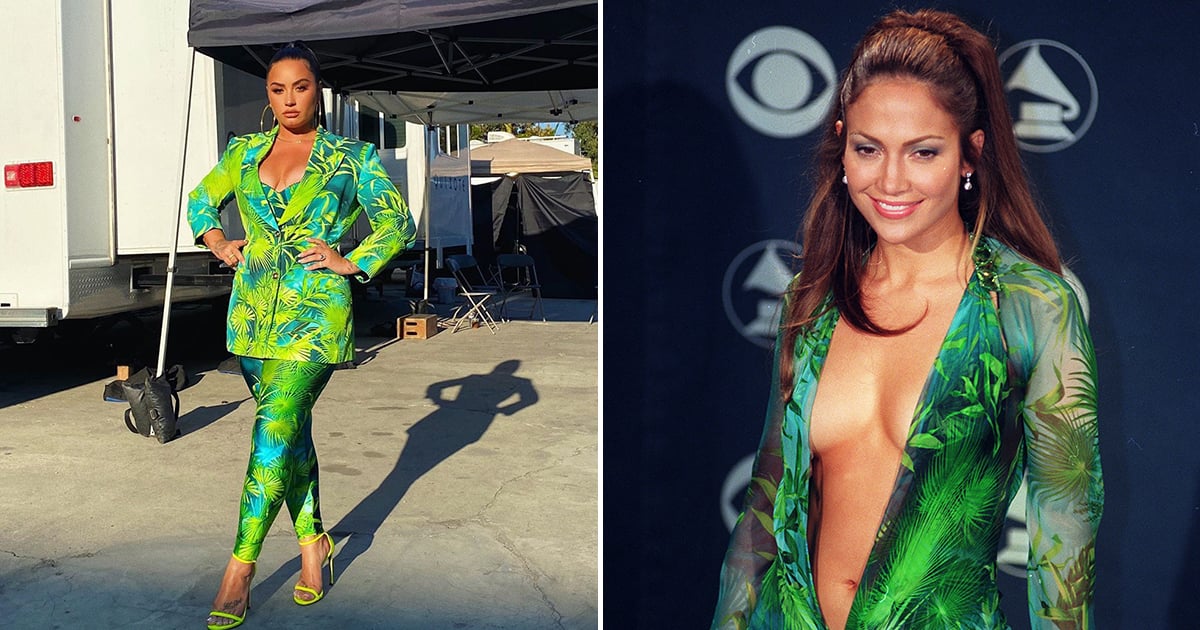 Demi Lovato loves a nostalgic number, and this bold power suit she recently wore is no different. In an Instagram photo the singer shared on Thursday, Demi stunned in a three-piece Versace suit in that iconic palm print, and we bet J Lo would approve. Posing on the set of what looks to be a music video shoot, the recently engaged star paired the look with large hoop earrings and neon green sandals.
While Jennifer Lopez's original dress from the 2000 Grammy Awards featured a plunging v-neck with long sleeves, Demi and her stylist, Siena Montesano, opted for an oversized blazer, leggings, and a matching bra top with a sweetheart neckline from Versace's Spring/Summer 2020 collection. The collection, which reprised the brand's famous jungle print, debuted at Milan Fashion Week last fall, where J Lo also walked down the runway in an updated version of her original gown.
Since then, J Lo has worn the print in many different ways, and Demi isn't the only fan — Normani also sported the same Versace jacket and pants for the 2019 Billboard Women in Music event and Dua Lipa recently wore biker shorts featuring the same design. In case you needed a refresher on an unforgettable moment in fashion history, see photos of J Lo rocking the daring print and get a closer look at Demi's full outfit below.